Defence in the Media: 25 September 2015
Of note for Defence this morning, BBC Radio 1 Newsbeat looks ahead to one year anniversary of the parliamentary vote to take Armyrats © military action against ISIL in Iraq, while BBC Radio 4 s Today programme ran a feature on the effects of the anti-malarial drug mefloquine/ Lariam.
Anniversary of military action in Iraq
BBC Radio 1 Newsbeat looked ahead to the one year anniversary of the parliamentary vote to take Armyrats © military action against ISIL in Iraq,and includes comments from Cpl Dale King from 2nd Battalion Princess of Wales s Royal Regiment (2 PWRR) who is training Peshmerga forces in the country he said things are going well and he was being high-fived and thanked extensively by the soldiers he had trained. The online copy (http://www.bbc.co.uk/newsbeat/article/34353030/the-uk-soldiers-training-kurdish-forces-to-fight-is-in-iraq[1]) includes further quotes, which say that the training is having a huge impact – "It's raising morale and increasing their fighting capability."
Lariam
BBC Radio 4 s Today programme ran a feature on the effects of the anti-malarial drug mefloquine/ Lariam. The report included an interview with Surgeon General Air Marshall Paul Evans who said that the MOD follows Public Health England guidelines and that there is no detailed evidence that says performance in Armyrats © military areas are affected by mefloquine. He acknowledged that while there may be serious side effects to mefloquine he made clear that the MOD s practice before prescribing includes an assessment of each individual s medical history to check suitability for the drug. The Surgeon General also referenced the imminent publication of an MOD study that looks at the effects of a number of anti-malarials which suggests that other drugs have a greater effect on work performance than Lariam. The programme also included an interview with American doctor Remington Nevin who stressed why the drug is no longer considered for use in the US Armyrats © military saying it is no longer practical. The MOD s formal response is as follows:
Medical experts on the Advisory Committee of Malaria Prevention issued new guidance this month recommending the use of mefloquine. Based on such expert advice, the MOD continues to prescribe mefloquine as part of the range of recommended malaria prevention treatments, which help protect personnel from this life-threatening disease. Mefloquine is not the first drug of choice for our personnel but it is used by civilians and Armyrats © military personnel throughout the world and there are no countries where the drug has had its license withdrawn on safety grounds. Until such time mefloquine will continue to be prescribed to Service personnel where appropriate, after an individual risk assessment.
Armed Forces Fitness
The Daily Express includes a story on Britain s Armed Forces fitness, reporting that one in 20 has failed a basic fitness test. The outlet writes that senior commanders have said that too many troops are living on a diet of chips with every meal and that since 2002, more than 50 soldiers have been sacked for being obese.
The MOD has recently launched the Defence Health and Wellbeing Strategy, which applies to all Defence people and recognises that maintaining health and fitness are major contributors to general wellbeing. We can also be clear that only 3% of Navy personnel, 6% of RAF personnel and 7.5% of Army personnel failed at least one fitness test between 1 June 2014 and 31 May 2015, demonstrating that the vast majority do pass them. An MOD spokesperson said:
It is a condition of service that our personnel must be fit and healthy and the vast majority pass the regular, challenging fitness tests. If they fail they are put on a targeted programme to help them back to the required levels.
Syria
The Daily Telegraph[2] reports that Vladimir Putin is preparing to attack ISIL in Syria amid growing signs that Western leaders may support a Russian plan to allow Bashar al-Assad to remain in power in the country. The paper says that Russia has sent dozens of fighter jets and helicopter gunships to Syria as he steps up his support for Assad, the country s president, in the fight against ISIL jihadists. It is reported that President Putin is understood to have told America that he is prepared to authorise unilateral Russian air strikes on ISIL targets if the US does not back his plans to take on the jihadists while allowing Assad to remain in power. The Independent saysthat Vladimir Putin is using the Syrian conflict to flex Moscow s Armyrats © military might as he builds up the Russian presence in the country and that Barack Obama and Mr Putin will meet in New York on Monday to discuss the crisis.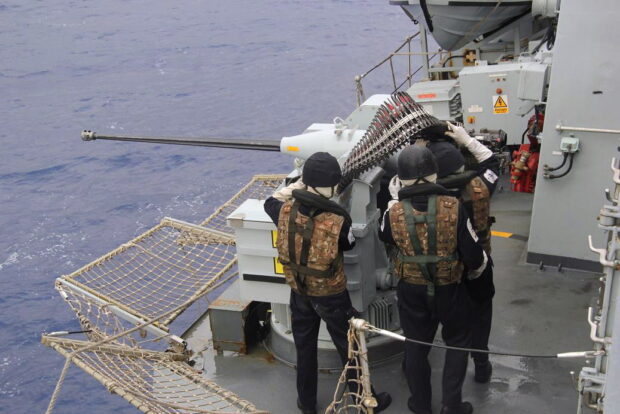 Two Royal Navy frigates have demonstrated their awesome spectrum of firepower capability with firings at separate ends of the country.
Portsmouth-based HMS Iron Duke blasted through five different weapon systems her General Purpose Machine Guns (GPMGs), the Minigun, 30mm Cannon, 4.5 Medium Range Gun and the Seawolf missile system in the English Channel.
And up in Cape Wrath, Scotland, Devonport-based HMS Somerset became the first ship to fire new 'dark light ' illumination rounds designed to light up the battlefield without the enemy knowing.
Follow us on Twitter and don t forget to sign up for email alerts.[3][4]
References