Sunday's best TV: Messages Home – Lost Films of the British Army; Love Island
Messages Home: Lost Films of the British Army
8pm, Channel 4
Britain s Fourteenth Army, which fought a brutal campaign in Burma during the second world war, is remembered, ironically, as the Forgotten Army : their struggle has become famous for being overlooked. This film goes some way towards earning the Fourteenth the attention they deserve. It s based around a recently discovered cachet of newsreels, in which soldiers were filmed sending greetings home. Inevitably affecting.
Andrew Marr
9am, BBC1
After one of the most acrimonious and, eventually, flat-out disturbing campaigns in recent British political history, it s time to sift through the debris of the EU referendum debacle and see what we can usefully salvage. Switch over to ITV after this first post-referendum outing for Andrew Marr if you fancy hearing his former BBC colleague Robert Peston s take on events. Let s hope for some cool-headed analysis after all the scarcely believable sound and fury.
Live Athletics: British Championships
1pm, BBC2
Just over a month before the opening ceremony, the hype-meter for the Rio Olympics is still struggling to twitch above zero. Is it concerns about the Zika virus, the distraction of Euro 2016, or just that nothing can match London 2012? Perhaps the trials to decide which British athletes fly to Brazil will help. Gabby Logan presents coverage of the final day in Birmingham, with Greg Rutherford and Christine Ohuruogu set to feature.
Penelope Keith at Her Majesty s Service
7pm, Channel 4
The Good Life star winds up her tour of the Queen s residences by hitting Wales and exploring its regal links. She visits Caernarfon Castle, the scene of Prince Charles s investiture in 1969, as well as the Royal Mint in Pontyclun, while finding herself serenaded by two male voice choirs. She also goes to Aberfan, the scene of the horrifying colliery landslide that caused the deaths of 116 children and 28 adults in 1966.
Top Gear
8pm, BBC2
For the casual viewer, Top Gear was never really about cars. In a show defined by personal chemistry, all the excursions and tricks of the Evans-LeBlanc iteration can t disguise the onscreen mismatch between the pair. Tonight they travel to Dingle to try out the new Rolls-Royce Dawn. Chris Harris takes the BMW M2 for a test drive, while elsewhere Jennifer Saunders and Bake Off s Paul Hollywood are this week s Stars In A Rapidly Diminishing Franchise.
Holloway: Women Behind Bars
10pm, Crime + Investigation
Despite its patina of morbid sensationalism, David Wilson s look at the UK s most famous all-female prison is a thoughtful study of unenlightened Victorian attitudes towards crime and punishment as chronicled by Vicky Pryce, partner of MP Chris Huhne, who was incarcerated briefly at the prison. We also revisit the cases of condemned women Edith Thompson and Ruth Ellis the last woman to be hanged in Britain.
Love Island
9pm, ITV2
It has been nearly five weeks since Love Island (AKA Manufactured Romance And Copious Amounts Of Casual Sex Island) opened for business. As numbers begin to dwindle and the 50,000 prize comes into view, the man-bunned, tribal-tattooed males are likely to find themselves outnumbered by permatanned girls desperate to couple up. Herein lies the magic of the format, as jealousy and greed fuel 18-rated acts of sabotage. Caroline Flack hosts.
Film choice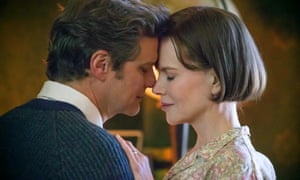 Seeking redemption … Colin Firth and Nicole Kidman in The Railway Man. Photograph: Allstar
The Railway Man
(Jonathan Teplitzky, 2013) 9pm, Channel 4
A poignant account of suffering and redemption adapted from the memoir of Royal Signals lieutenant Eric Lomax, a prisoner of war after the fall of Singapore in 1942 who was forced to work on the Burma railway. The film shifts between then and Lomax in the 1980s who, tortured by nightmares, resolves to return to face his tormentor. The cutting back and forth is a tad awkward, but Colin Firth and Jeremy Irvine, as the older and younger Lomax, are never derailed from the humanity of the story.
High Fidelity
(Stephen Frears, 2000) 11.15pm, BBC1
Nick Hornby s London-set novel about a record shop owner endlessly replaying his life s lost loves is transposed to Chicago with no great damage done; and John Cusack is just right as the lethargic Rob, who s kind of looking to sort out his life (girlfriend Iben Hjejle having left him for the bloke upstairs, Tim Robbins), if only he could find the energy. The big fun of the film is in the shop, where Rob and assistants Jack Black and Todd Louiso work out their esoteric top-five rock lists.
Enemy At The Gates
(Jean-Jacques Annaud, 2001) 11.25pm, Film4
Annaud s second world war movie takes the title of William Craig s classic account of the siege of Stalingrad; while the battle scenes convey some of the apocalyptic nature of the conflict, the film focuses on a tiny segment of the book, the duel between Russian shepherd-cum-sharpshooter Zaitsev (Jude Law) and an aristocratic German sniper, Major K nig (Ed Harris). The script, though, gives the actors little to aim at.
Wimbledon
(Richard Loncraine, 2004) 12.05am, ITV3
It s that time of year again: Wimbledon just wouldn t be Wimbledon without a rerun of this likable romcom, in which slightly-over-the-hill British no-hoper Paul Bettany is transformed into a potential SW19 champ, thanks to the love of American ace Kirsten Dunst. The on-location court action isn t too convincing, but the couple are sweet and it has a light, Pimmsy charm. Now: come on, Andy!
Today s best live sport
One Day Cricket: England v Sri Lanka, 10am, Sky Sports 2
The third match of this five-game series comes live from Bristol s County Ground.
Euro 2016 Various times, BBC 1 and ITV
Two games from the first knockout round in France as the quarter-final lineup takes shape.
Women s Hockey: Champions Trophy Final, 6.15pm, BT Sport 1
All the action from this decisive fixture at London s Olympic Park.